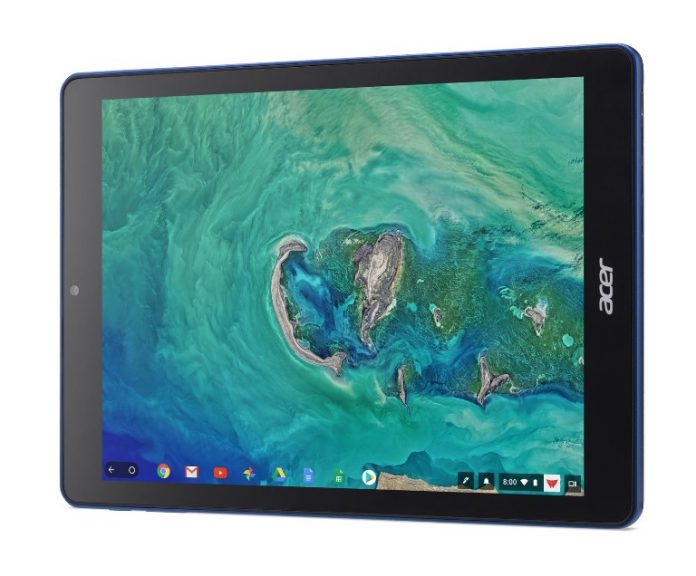 The popular Chrome OS has so far run on laptops, convertibles, laptops as well as all-in-one so far but has never run on a tablet. However, Acer Chromebook Tab 10 has become the first tablet to run on the Chrome OS. The news is that the new Acer Chromebook Tab 10 will be a rival to the iPad. Another factor that is noticeable, that Acer came up with the Chromebook just a day before Apple is expected to announce a new low-cost model.
The new Tab 10 features a 9.7 inch 2048 X 1536 which is similar to the iPad and has front as well as rear facing cameras. More features of the device includes 4GB RAM, nine hours of battery life, 32 GB storage and a USB C port, with a micro SD slot and a headphone jack. The feature that stands out is the stylus support similar to Samsung's Galaxy Note Series.
It has a Wacom-branded stylus and does not need a battery or any additional charging. The Acer Chromebook Tab 10 has been priced at $329. The price of the Tab 10 is the same as the Apple's entry level iPad. On the other hand Apple is ready to unveil an iPad which costs $259. But if a user, needs a stylus then Apple currently sells it separately for $99 which has to be charged and stored separately. Acer intends to sell the Tab 10 to the public and is targeting it at the education market. Google and Acer are trying their best to stand in the segment opposite Apple by introducing an education focused tablet to boost Chrome OS which is already in the market.
There are chances that the Tab 10 is likely to have the advantages on whatever Apple introduces. The device might be expensive but to have a non-powered stylus will make it easy to use and store.
Photo Credits: androidcentral