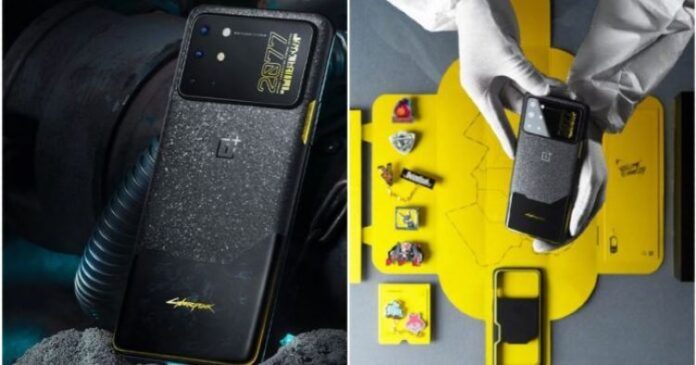 Chinese tech giant OnePlus is known for offering maximum features in the best possible price with its smartphones. The company during the launch of the OnePlus 8T had promised that it is also preparing to launch the OnePlus 8T Cyberpunk 2077 Edition. But then it had not shared much details about the limited edition device.
The new OnePlus 8T Cyberpunk 2077 Edition has only been confirmed for the Chinese market and boasts an ultra-trendy look. The surprising thing is that it looks nothing like its sibling OnePlus 8T. The rear portion is very different and has three portions. The upper section has a big glass panel that has the camera lenses and the numbers 2077. Even the middle section is made of glass but has a mottled finish. The bottom, which is the third portion has a dark shade and has the 'Cyberpunk 2077' logo. If the owners of the device want to make it to stand out even more, then there is a customized luminous case that can change color and the brightness based on the surrounding light.
Off-course, the company had earlier teased about its looks, but this time there is a more clear picture as to what the gadget owners can expect. The front portion of the device looks standard but has a live wallpaper. In terms of the specifications, there is not much difference between the top version of the OnePlus 8T which means that the only thing the limited edition has is the looks.
The device has a 6.55 inch AMOLED 120 Hz display, 48 MP main camera with optical image stabilization and a 16 MP ultra-wide camera, 5MP macro one and a 2MP monochrome camera. The limited edition OnePlus features a huge 4,500 mAh battery with 65W fast charging. The device has been priced at CNY 3,999 which comes to around $600 but the actual price could vary according to the region where it will be available in future.
Photo Credits: Mysmartprice