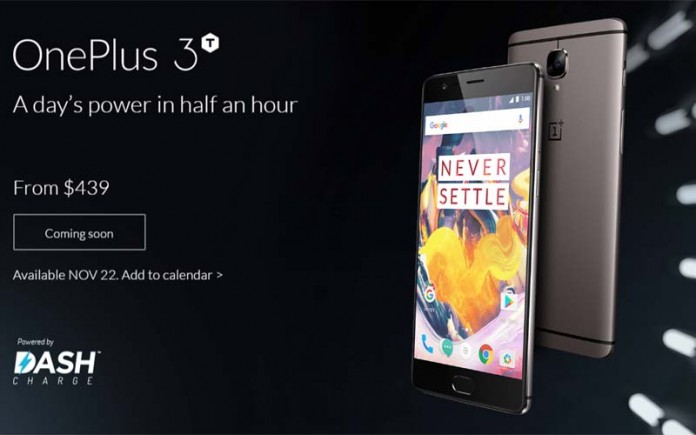 OnePlus 3T Phone Review
The 'flagship killer' OnePlus 3 has received a light update in the form of the OnePlus 3T. This new phone features the latest hardware available in the market. This has given the phone a chance to battle flagships in the market including the LG V20, Samsung Galaxy S7 Edge, and Google Pixel.
This new offering from OnePlus comes barely six months after the launch of one of the company's best phones to date. This new variant seems even more capable. So, are these upgrades enough to make the OnePlus 3T a better phone?
Here is a deeper look at the phone-
Design
This is the best designed Android smartphone for the price. Even though the design is the same as that of the OnePlus 3, the new Gunmetal color on the phone is amazing. This phone features a smooth uni-body construction with a slight curve at the back. The front is covered by a curved 2.5D with Gorilla Glass 4 protection.
The home button at the bottom of the phone is also home to the fingerprint scanner. To the left of the phone is the volume rocker which is located below the alert slider. To the right is the power button and the bottom of the phone is home to the USB-C charging port, speaker grille and 3.5mm audio jack.
Specifications
The OnePlus 3T sports a 5.5 in AMOLED display with a resolution of 1080×1920 pixels. It runs on Android 6.0 Marshmallow, with the company planning to roll out a Nougat update by the end of the year. The phone comes with 6 GB RAM and storage options of 64 GB and 128 GB. The phone does not feature an external card slot.
The newer Snapdragon 821 is the major difference between the OnePlus 3 and 3T. This is bound to translate into a performance difference between the two phones. A bigger 3,400mAh is included in this new offering.
Performance
The processor on the OnePlus 3T is solid, with the phone handling all the tasks at hand without any lag. The full HD display for sharp images and vibrant colors. The fingerprint scanner is also sensitive, recognizing a fingerprint in a jiffy.
Camera
The back camera on the OnePlus 3T is a 16 MP camera with f/2.0 aperture. This is the same camera found on the OnePlus 3. The difference comes in the front camera, with the 3T featuring a 16MP sensor. The improved front camera aims at providing better selfies and video chats. The camera software has also received some improvements to provide more natural looking results. The images produced are more vivid than those produced by the OnePlus 3. Verdict Even though the price has slightly increased, this phone is still a solid buy.
It features the latest in both hardware and software, making it the best budget smartphone that provides the fastest and stock-Android like experience. Worth It!