Anyone following Facebook's Mark Zuckerberg would have received updates and pranks from the CEO himself about a new pet project he has been working on called Oculus Rift. When it comes to the maverick multi-billionaire, there is no doubt that whatever he touches turns to gold and changes the future of technology. Though experts are predicting that the Rift is going to be a success and people are already ordering their Oculus Rift boxes since they started shipping yesterday. Zuckerberg took us on a private tour of the development center when he went LIVE through his official Facebook account (he also didn't have access to the test area, which is weird, him being THE Mark Zuckerberg and all).
But let us take you on a tour as well, beginning at the start. What is Oculus? What is the Rift? What does it have to do with Facebook?
To begin with, Meant To Be Seen forum moderator, Palmer Luckey, a teenager then, looked at MTBS's virtual reality developments and decided that he wanted to make his own head-mounted device. He developed a prototype in his parents' garage; this was the fetal stage of the virtual reality device. It was around this time that another MTBS member – John Carmack was developing a similar device. However, he found Luckey's work better and soon the two joined hands. Oculus was born.
In the second-half of 2012, the start-up began a Kickstarter crowdfunding campaign. At first they didn't do that great, but managed to develop their initial products – the Development Kit 1 and the Development Kit 2. Later, it gained momentum and managed to collect nearly $2.5 million through crowdfunding. It was only in 2014 that Mark Zuckerberg got wind of a potential piece of transformative technology. To cut a long story short, Oculus was purchased by Facebook for a cool $2 billion.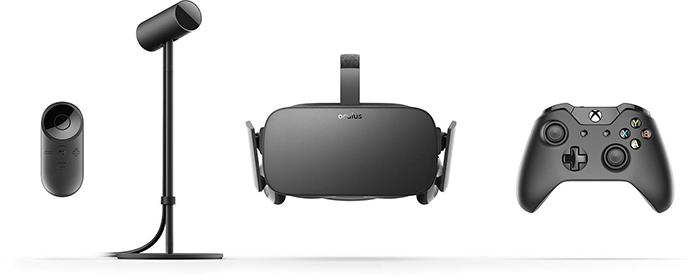 What is the Rift?
The actual device comes in a cool black box that includes two hand-held devices and a head-mounted device. The shortfall is that it can activated and use through an installed software through a PC running on Microsoft Windows. The Rift has a resolution of 1080×1200. In-built headphones are also included with the headset, to provide an all-round 3D experience. Each of eyes are provided with OLED paneling. The Rift has basically been created to provide gamers, movie-goers, and basically anyone with a fetish for virtual reality to experience it like it's real.
Check out Mark Zuckerberg's video opening and using the Oculus Rift.
https://www.youtube.com/watch?v=22hF0qHSE5c