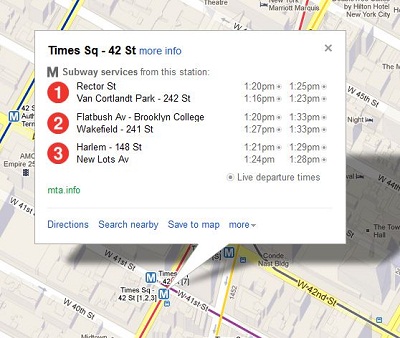 Google has jumped on information provided by the Metropolitan Transportation Authority (MTA) relating to real-time subway train arrivals and departures. The MTA was hoping that this data would be used by independent developers to allow for apps to be built, showcasing the train timings and thus adding to the attraction of the subway lines.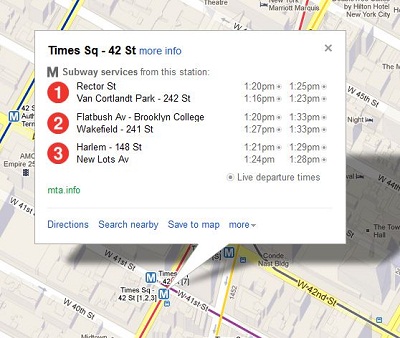 Google announced on March 27, 2013, that New York City subway trains numbered 1,2,3,4,5 and 6 would show up in Google Maps, along with their departure information. The Times Square Shuttle will also be included for those who use the mobile and web-based versions of the software.
The information that will be provided on Google Maps will be the same as those on the 'countdown clocks' present on stations where the trains are running. This will not be the first time that the Internet giant has put train information on its Maps site, however previously the 'countdown clocks' were not in the picture.
The improvement in Google Maps is an added bonus for subway commuters, but around two-thirds of the subway system has not been mapped. Mapping out the entire system will take substantial funds running into millions of dollars, as well as many years of work. However, MTA engineers are reportedly working on the issue.